Gallery
Photos from recent events where I have performed. The single best way to see the experience that I create for my customers.
Always one of my favorite venues! This time we opted for Uplighting only at Danielle's request. This wasn't a problem at all though as all of our lighting fixtures are wirelessly controlled and were set to a static colour during the early part of the evening (which looked amazing with the string lights overhead) and then chased and flashed with the music as we got into the night.
Absolutely brilliant company. The online booking management system was easy to use and VERY handy. Julian helped us through every step of the way with how to use it and keeping us updated. The lighting and music on the night was first class. Was better than expected and everyone loved it. Cannot recommend Bristol Disco Hire enough. We thank you so much for everything and making our night a memorable one. Bruce and Danielle.
It's always a pleasure at Berwick Lodge, either in the main Lodge or in the Muse. On this occasion we also used uplighting and projection to add to the decor.
We can not thank you enough for being at our wedding. We danced to the best music all night and our guests had so much fun. Thank you again.
With the MR & MRS letters out in all their splendor, we had a great night! The music requests tended towards 90's and Indie which were enjoyed by all!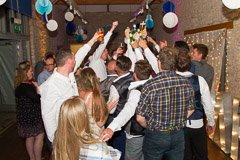 Laura and Harry's Wedding reception at the Barley Wood Centre in Wrington. Standard Wedding setup with uplighting and a great crowd!
I have booked Bristol Disco Hire for 2 events in the past year - 50th birthday party and my wedding. On both occasions, Julian has been professional, accommodating and extremely helpful. Julian recommended what package would work best at our wedding venue and seamlessly set up the equipment throughout our day. The online portal is a brilliant feature that enabled us to provide as much detail as we wanted. So many guests commented on how great the music was and really appreciated being able to make requests on the night. Julian also captured some fantastic photographs of the evening dancing and we are so grateful to have these in addition to our professional photographs from the day. Thank you again and we look forward to seeing you at another event in the future!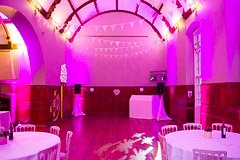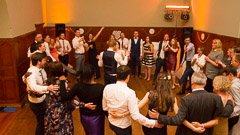 David & Sarah's Wedding reception at The Masonic Hall, Park Street, Bristol. Full Gold package and a broad range of music with a strict "No Cheese" policy!
Fab dj. Julian you did everything I asked and played all the music I requested. You were great thank you :-)
Eddie & Jane's Wedding Reception at the impressive Orchardleigh Orangery shortly after it opened for Weddings. Working alongside an amazing Acoustic Duet.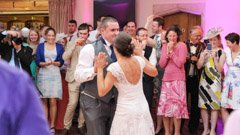 Rebecca's 30th Birthday Party at Arnos Vale Hotel in Bristol. Silver package in Black with Music that took her and her guests back to their youth. Remember what I said about boring birthday parties where no-one dances? Not this one!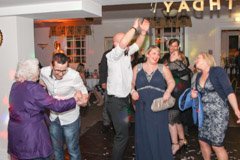 Our first visit to the Orangery at the Compass Inn for Vicki and Ben's evening reception. Lighting was used to accent the incredible canopy in the room.
Amazing! Julian was very professional and a lovely person! Thank you so much and we will recommend you to all our friends.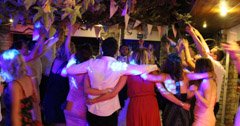 Returning to one of our favourite venues, The Pavilion at Bristol Zoo, for a Wedding reception for Mr & Mrs Jennings. We were treated on the night to a dance routine the bridal party learned on the hen weekend and a conga! We ended the night by arranging the guests into a tunnel for the Bride and Groom to exit.
Thank you so much for a professional yet personal service - we all thoroughly enjoyed ourselves, as the photos prove! We shall certainly recommend you to others!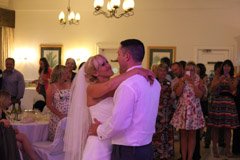 Prior Park College, with it's absolutely outstanding position overlooking Bath, set the Scene for Rachel and Ben's Wedding day. We transformed the room given using lighting effects to create an entirely different ambience as the sun set.
We loved the disco and thought you offered a fantastic service from booking to the night, and after! Thank you so much. You got our tastes to a tee and we had loads of good feedback about song choices etc.
Victoria and Ben's Wedding reception at St Georges Concert Hall in Bristol. White booth, Podiums and a good mix of music.
Very pleased with communication throughout - prompt and efficient replies to all queries made planning a wedding so much easier!
Working at the newly re-opened Kings Weston House for Georgia and Simon's wedding reception. A glorious summer day and a rare mix of music from 80's to Metal.
Just wanted to say thank you again for what you did for us last Saturday, the night was perfect and couldn't have asked for anything better all the guests really enjoyed themselves.
Matt and Lucy's Wedding reception at one of my favourite venues in Bristol, The Square Club at the Berkley Square Hotel. Music from my Uni days and shirts off!
Thank you for putting up with some of the weird and quite wonderful requests made by the mentalists from Wales! Was a really good set and hope you enjoyed it as much as we did!
Working at the O2 Academy in Bristol with Disco Charlie, getting a crowd of 1,800 people worked up for the after show party. This was for the Clicendales charity event in aid of CLIC Sargent for the third year in a row.
Please see the Clicendales website for more information about this event and the CLIC Sargent website if you would like to see how you can help this amazing charity.